Clubhouse, Discord, Twitter, and Co: The Social Audio Wars are Heating Up
Categories
Clubhouse, Discord, Twitter, and Co: The Social Audio Wars are Heating Up
By now, you've undoubtedly heard the name Clubhouse being tossed around in marketing circles. It seems to have evolved from a shiny new trend to a bonafide disruptor, triggering tech giants like Facebook and Twitter to ramp up their own social audio offerings.
So, what is audio social media? And why it is making noise (pun intended) in the marketing world?
Audio Killed the Video Star
Platforms like Clubhouse, Discord, and Twitter Spaces are revolutionizing the way brands and people can connect. They allow for a host to start a discourse on any topic and for listeners to chime in with their own voice and opinion. Moreover, they don't have video components, which means you can participate while lounging in your sweatpants with your eyes closed. An enticing option for a generation saturated by video.
We've all been on one too many Zoom calls at this point. A researcher at the Stanford Virtual Human Interaction Lab, Jeremy Bailenson, identified four main reasons why "Zoom fatigue" might be fueling interest in social audio apps: constant eye contact; self-criticism from seeing yourself on camera; being stationary all day; and the general cognitive energy required for a video call. In short, video conferences are draining.
With that in mind, the appeal of audio social media makes sense. As Bailenson puts it, "Just because you can use video, doesn't mean you have to."
So who are the major players in audio social media?
Clubhouse
Clubhouse is the widely known player, currently invite-only. Anyone with an account can start a "room" about any topic, then invite others to listen in. If you want to share your thoughts, you can use the "raise your hand" feature and the room's moderator can invite you to the virtual stage. But make sure to take notes; Clubhouse rooms aren't recorded. A brave dynamic in our modern on-demand world. It's important to mark your calendar if there's content you don't want to miss from a creator you follow.

Interestingly, despite being the biggest player in audio social media right now, Clubhouse's growth rate has started to decline, according to eMarketer. This leaves opportunity for other platforms to break through, platforms with the resources to scale rapidly. Platforms like Discord.
Discord

Originally created for gamers to build communities and share messages, Discord lets users create "servers" with chats, voice channels, and the ability to share videos, images, links, etc. Each server can have channels for different topics (like an informal version of Slack). Whereas Clubhouse is an app dedicated to audio, Discord is a communication app with audio features; however, Discord recently launched a feature that directly competes with Clubhouse, stage channels, which "allow you to share a focused conversation with select individuals to an audience of listeners." To boot, participants can raise their hands to speak and a moderator can give them the floor. Sound familiar?
Twitter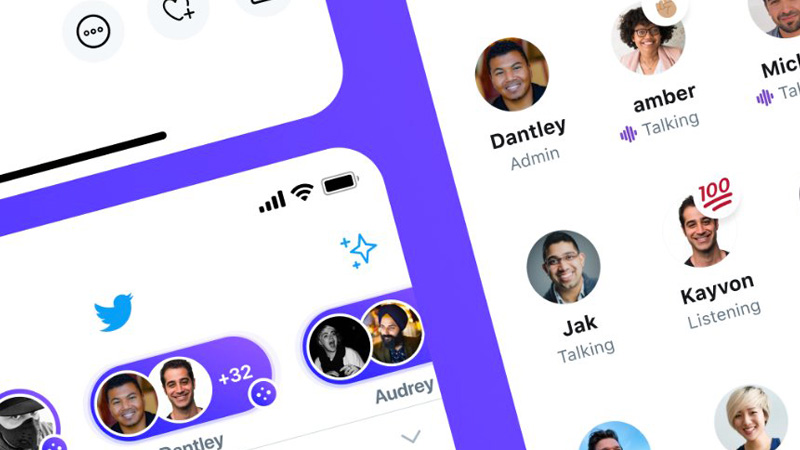 Then there's Twitter Spaces. Currently, few people have the ability to actually create a Space, but anyone can listen in. That said, only hosts can choose who speaks. Hosts can also name and describe their Spaces to help the public navigate content.
If Clubhouse is more for business, and Discord is more for socializing, it's hard to say where Spaces will land—which means it might be the perfect time for someone to claim it.

Discord and Twitter are clearly trying to keep up with Clubhouse, evidenced by how Twitter looked into buying Clubhouse for $4 billion, and the fact that both Discord and Twitter have designed their audio social media features to mimic those of Clubhouse. Even Spotify is trying to get in the game, purchasing the app Locker Room—a social audio network for sports fans. Spotify says it's planning to "expand Locker Room into an enhanced live audio experience," which will include giving "professional athletes, writers, musicians, songwriters, podcasters, and other global voices opportunities to host real-time discussions, debates, ask me anything (AMA) sessions, and more."
Facebook
Of course, where there's a trend picking up steam, there's Facebook looking to get in on the action. Facebook recently tested its own social audio offering, Hotline, a web app that lets users host a live video discussion. Being touted as an extension of Instagram live, Hotline is served as a video but attendees can chime in via chat or raise their hand to participate through voice.
How can brands leverage audio apps and features like Clubhouse, Discord, and Twitter Spaces?
It's an interesting question, though a bit like asking "how can we predict the future?" These apps are so new, it's hard to determine how they'll shape up for bigger marketing purposes. That said, there are things we know about audiences and engagement that are evergreen, such as consistency of posting, relevancy, and the timeliness of content. We can use these insights to make an educated guess on how to best capitalize on audio social media.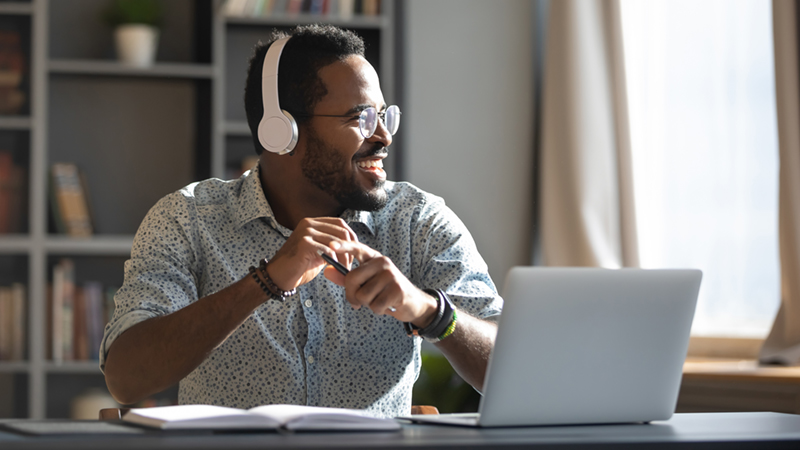 Capitalize on FOMO
Everyone has FOMO, or the fear of missing out. Limited-time offers, flash sales, and the overall scarcity principle are tried and true marketing tactics, and there's no reason we can't take them into audio platforms. Since Clubhouse rooms can't be recorded, sharing news, contests, or just really good content on the platform can be a great way to generate hype and make your discussions a can't-miss event.
Sponsor Rooms and Conversations
Even if no one from your company wants to get up and talk for an hour, there are ways your brand can be at the forefront of the conversation. Sponsoring a Clubhouse room, or starting a Twitter Space from your account and having a celebrity or expert lead the session, can align your brand with content people believe in and want to see more of. You could also create your own server or Stage channel on Discord, giving your audience a place to chat and share content.
Focus Groups and Social Listening
Actively listen to audio social media to hear what consumers want. They may not be telling you directly, but you can join rooms about your industry, listen to topics related to your brand, and find out what people are talking about. You can also be more specific and run a focus group, inviting people who already follow your brand—and even those who don't—to attend a town hall-type session. This can give you direct access to feedback from your audience, which is never a bad thing.
Put in the Work
These social audio apps require effort—period. You can't just record five episodes in a day and use that content for the next five months. You need to be actively engaged and set aside time to produce content. It's never a bad thing to explore new marketing avenues right? If they work, great! You just found a new way to engage your audience. If they don't, at least you positioned yourself as a brand that's being proactive.
The Takeaway
It's important to remember that social audio isn't here to replace podcasts—at least not yet. Podcasts are still an incredibly valuable storytelling tool and have an important place in marketing and content strategies. Social audio can be seen as an extension or an entirely new medium all together.

With giants like Facebook and Twitter getting in on the action, it's clear that audio social media is here to stay. It strips away the formality of video-conferencing in favour of candid conversations with little production value. Clubhouse might be the market leader, for now, but stiff competition from larger providers with more resources, like Discord, could signal a swift end for the popular start-up.
It's still too early to tell who will dominate the space, but brands should listen in to see if social audio is a worthwhile investment. Afterall, a new way of communicating is yet another tool for marketers. And at the rate this one's being adopted, that's a good thing.