Alphabet® Brings Home Two Summit Media Awards
Categories
Alphabet® Brings Home Two Summit Media Awards
2021 is starting in a big way! We're excited to announce that Alphabet® has brought home not one but two Summit International Emerging Media Awards 🎉:
The Digital Campaign Leader Award for our work on the Canadian Real Estate Association's REALTOR.ca Living Room content hub
The Innovator Award for CREA's REAL TIME podcast.
The Summit International Awards honour the best digital marketing campaigns from creative agencies worldwide. The Emerging Media category celebrates campaigns that leverage new media types and technologies for a return on investment.

So, what made our work stand out from the over 1,200 submissions?
REAL TIME Podcast
A few years ago, we ran a national speaking series for the Canadian Real Estate Association (CREA). The series was to provide CREA's member group of 130,000 REALTORS® with an incredible value they can't get elsewhere—conversations with well-known experts in the fields of real estate and home design. The response to the event was astounding. CREA's members had signaled they are hungry for valuable and insightful content and thus, the REAL TIME podcast was born.
Alphabet® works hand-in-hand with CREA to produce REAL TIME on a monthly cadence. We map out the high-level structure for the show and provide strategic recommendations on the flow of content and what topics to cover per episode.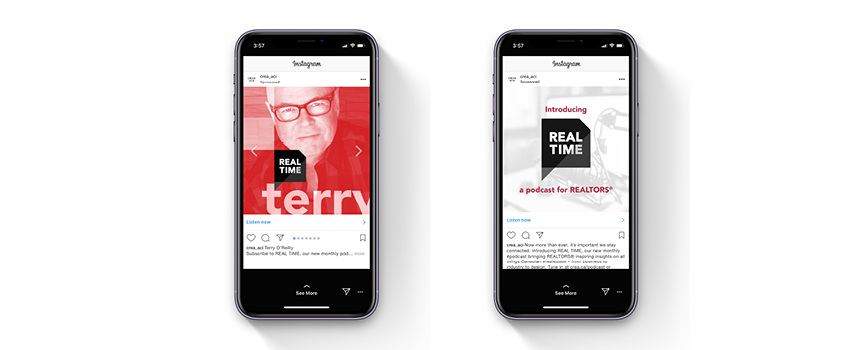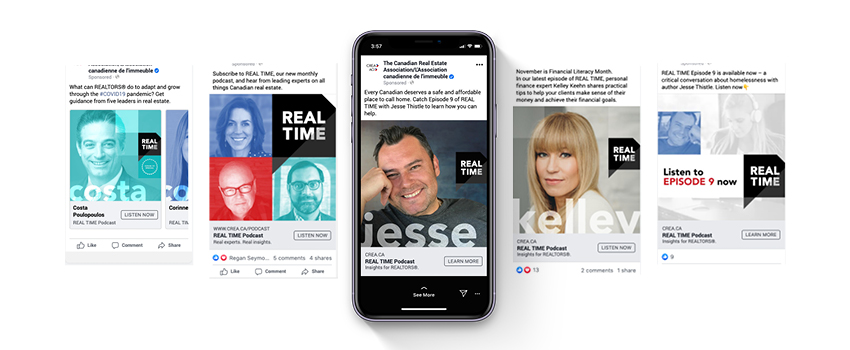 Since launching the first REAL TIME episode in March of 2020 to the end of the year, there have been 12,705 total downloads and listens, with 27,000 website sessions for https://www.crea.ca/podcast/.

We are underway on Season 2 of REAL TIME, with an exciting slate of guests and topics. You can check out the latest episode about integrating wellness into your home design, featuring HGTV star and author Tiffany Pratt—hosted by veteran Canadian broadcaster Erin Davis.
We're so happy CREA is always open to new and creative ideas. When they pitched the idea for a podcast, we jumped on it quickly. Having a partner who is open to experimenting with new forms of communication makes things a lot easier (and way more fun).
Living Room Content Hub
REALTOR.ca is one of the most visited sites among Canadians. A complete one-stop destination for homeowners and first-time buyers. REALTOR.ca has information on residential and commercial property listings, provides access to qualified REALTORS®, and is the location of Living Room, a content hub about all things home—from market trends and real estate to design ideas and home improvement tips.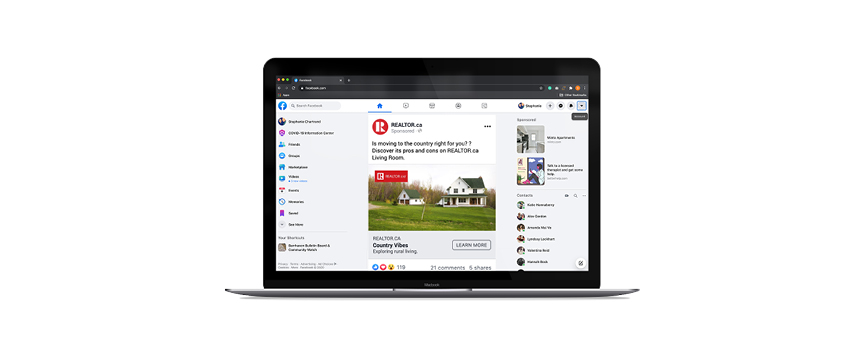 Leveraging a diverse team of content contributors, Alphabet® works with CREA to produce between 25 and 30 unique pieces of content each month for Living Room, in both of Canada's official languages. We also run a paid media program optimized to drive users to the website.
If you're curious about what Living Room has to offer, we recommend the blog's most popular neighbourhood guide to date, The Prettiest Town in Canada? Goderich, Ontario.
We wear the Digital Campaign Leader Award as a badge of honour because in the last 12 months, REALTOR.ca has seen:
40,188,814 Ad impressions
526,832 Ad clicks
960,100 Website sessions (+83.6% Year over Year)
4,300,000 Pageviews (+31.3% Year over Year)
41,186 Social Followers (+7,532 new social followers in 12 months or 22.4% increase Year over Year)
83,972,405 Social Impressions (+163% Year over Year)
882,923 Social Engagements (+79% Year over Year)
Those numbers are following suit in 2021, with new content types being added and collaborations in the works. We just celebrated the 3-year anniversary of Living Room and look forward to growing the content program even further.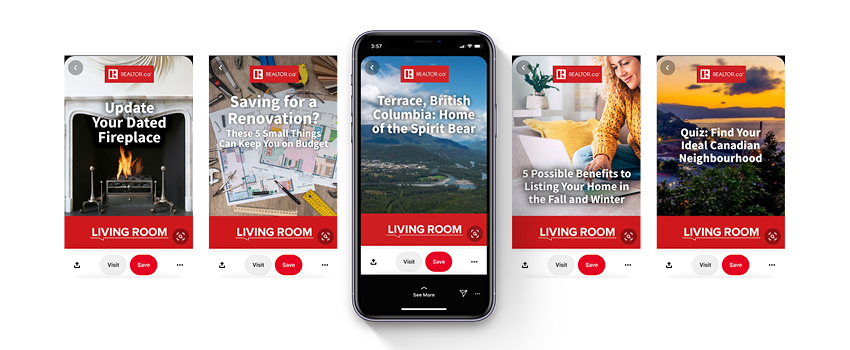 You can view our full case study to see how we've helped grow The Canadian Real Estate Association brand over the years. Is your business in need of a robust content marketing strategy to help bring more eyeballs to your cause? Drop us a line so we can help tell your story.