Increasing Organic Engagement on Facebook with Unique Post Types
Categories
digital marketing - social media
Increasing Organic Engagement on Facebook with Unique Post Types
It's no secret that Facebook organic reach is declining. (If this is news to you, feel free to Google it and you'll see the thousands of articles talking about it or check out some sources listed down below). Many people, including me, will tell you it's becoming solely a pay-to-play arena. Finding new, fresh audiences is really REALLY difficult unless you're putting ad dollars behind your posts. But that doesn't mean you should abandon the organic ship. You've built an audience of Facebook fans and we do not want to leave them high and dry. Unfortunately, it can be hard to reach even your own fans. With algorithm changes continually working against pages, it's more important than ever to make sure that your organic posts are incredible so that the Facebook robots say, "Hey! This page has good stuff, let's show it to more people".
One of the factors that the Facebook algorithm looks for is engagement from your audience. This makes sense, if people are engaging with your content (commenting, liking, or sharing it) they probably like it (or really hate it) but it's creating an interactive experience on Facebook and that's what Facebook wants. They want their users engaged with their platform so that they can boast about a lift in user engagement to sell more ad space, thus resulting in more revenue.
So back to engaging content. The first step is, make sure whatever you create is interesting. Whether that's a photo post, a video, or a link to a blog post. But let's move beyond the regular post types and explore some other options.
Note: you can create a poll on mobile but carousels have to be made on desktop—and both are much easier to create on desktop.
Organic Carousels
Carousels are a very popular ad type, but did you know you can create carousels organically as well? It's a bit trickier than paid, but it gives you a lot more real estate for your content. It also means you can share multiple links in one post. This is especially great if you have a theme you want to post about or a group of products.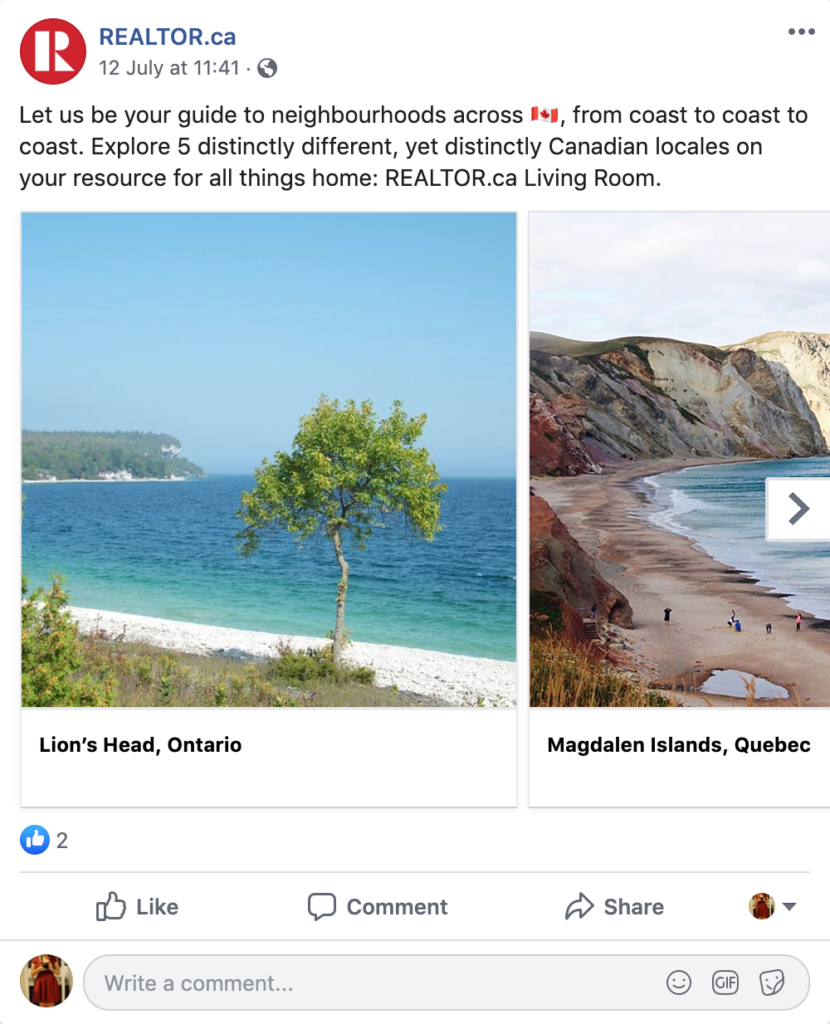 New to carousels? Carousels are made up of "cards". Each card contains an image, headline, and link. Paid carousel cards also contain a link description. The entire carousel unit includes post copy at the top and displays the cards underneath which a user can click or swipe through.
Here's how to create an organic carousel:
Go to your Facebook page and start a post. Choose "Photo/Video" and then "Create a photo carousel".
Write your post copy.
Insert a Destination URL. Important: in organic carousels, the first link you enter will automatically be used in the last card of the carousel. The last card also uses your profile photo as the image with default copy: See more at [your page name]. You cannot change or turn off this card.
Make sure you choose the right link here, otherwise you'll have to rebuild the rest of the carousel if you change your mind!
Facebook will automatically pull photos from the link you have entered but you can then customize which photos you want to show. You can insert new photos (that don't need to be on the page of the first link) and remove any photos you don't want that have been auto-populated. *Add a few photos in first, if you try to delete all the other photos first you'll run into issues.
You can have up to 10 cards in the carousel. Each card can have it's own unique photo, headline, and link. To edit the link, hover over the photo and click the link icon.
Once you've reviewed your carousel you can post it immediately or schedule it for posting later.
Polls
Polls are a great way to engage your audience whether it's just for a laugh or useful feedback. On Facebook, you can create polls using images or gifs to make it even more eye-catching and interesting. They can be simple questions like, How do you like to do summer? Quiet Cottage or Raging Festivals? Or more business-related like, Which of these colours do you like better for our new t-shirt line?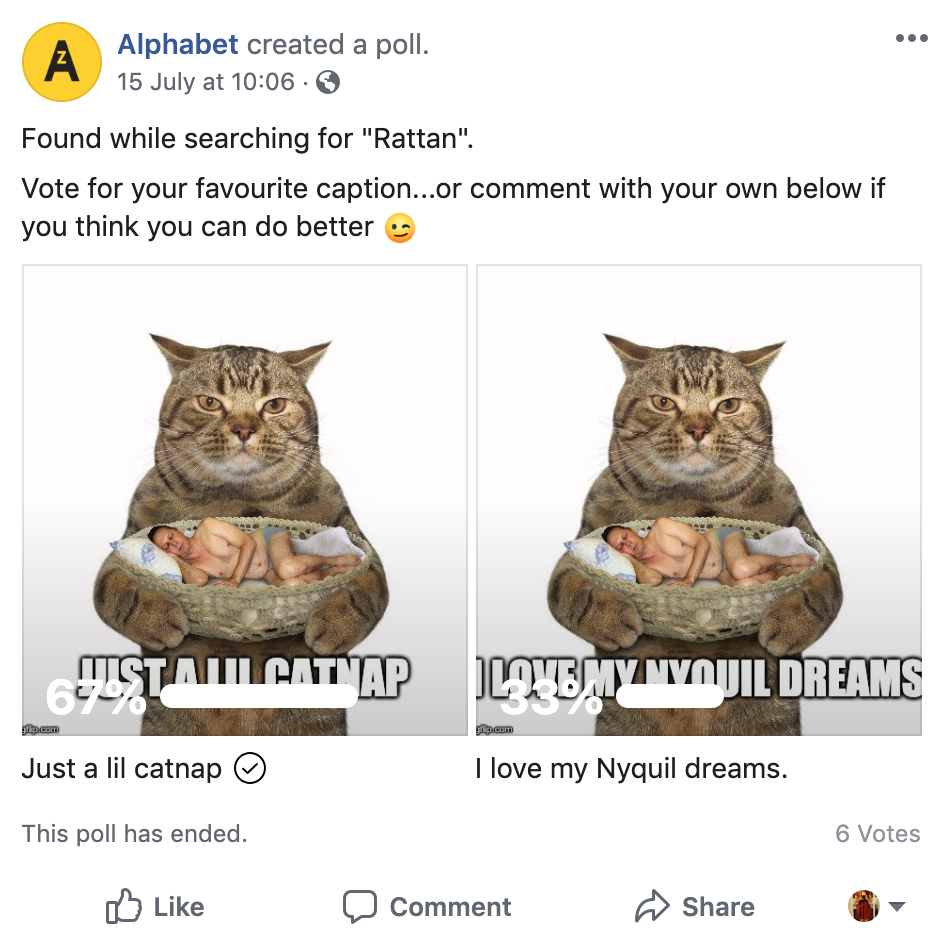 Here's how to create a poll:
Go to your Facebook page and start a post. At the bottom of the post you'll see some options for post type like Photo/Video and Get message, click the three little dots on the far right to open up more post type options. Choose Poll. *Note: you can only run one poll at a time.
Insert copy for your question and your 2 poll options—the answer options are limited at 25 characters each.
Upload photos or add GIFs to your poll options using the buttons on the right side of each text field.
Choose how long you'd like the poll to be interactive before closing with the dropdown menu below.
Try having some fun with these unique post formats and measure the response from your audience. If your audience responds positively, start working these types of posts into your content calendar in the never-ending fight again declining organic reach. Good luck out there!
---
Resources:
Algorithm Updates – https://www.socialmediatoday.com/topic/algorithm-updates/