Five social media user habits brands can't ignore
Uncover current social media user habits to help maximize your brand's impact on each platform.
Categories
Five social media user habits brands can't ignore
It's 2023. Safe to say most of us are glued to our cell phones. You're probably looking at yours right now—eyes down, pinky finger hooked beneath the device. And I'm willing to bet you open a social media app after reading this.
Social media dominates our attention. We use it to connect with friends and family, for news and entertainment, to build our brands and promote our businesses.
Or just out of habit. (Often just out of habit.)
Daily usage is rising year-over-over, according to sources like the Global Web Index (GWI), Pew Research Center, and OfCom. Plus, the digital landscape keeps changing, from new apps and features to never-ending algorithm updates.
Fortunately, our habits using social media are easier to keep pace with, and still offer key insight to maximize your brand's impact, presence, and reach. So let's dive into five user habits you need to know about, with recommendations for each.
1. Two-hours-and-thirty-one minutes a day
That's the global average time spent on social media in 2023. In Canada, it's two-hours-and-five minutes a day (per Statista), an increase from one-hour-and-fifty-three minutes a day in 2022. But daily usage isn't the only thing on the rise. Despite pandemic-fueled growth cooling, social media adoption rolls on—gaining more users quarter by quarter, year by year.
You don't have to be in all the places, just the right places.
Users engage with up to seven different social platforms a month, according to GWI. Each is used for certain reasons by certain audiences. For instance, Gen Z is the largest demographic on TikTok, and the primary use is finding funny or entertaining content.
Here's what's worth noting: the short, snackable videos make TikTok the popular choice for Gen Zs. But when something really captures their attention, they often seek out longer-form videos on YouTube to learn more.
Is your YouTube video getting lost in the mix? Make it more discoverable with our guide to YouTube SEO.
Or how about this. Facebook is still the world's most-used social media platform. As of January 2023, the app had more than 2.9B active users, doubling TikTok at 1.05B and crushing Twitter with its measly 559M. However, despite Facebook being considered 'social media for Boomers,' the bulk of users are aged 18 to 44.
Recommendation
Learn as much as you can about the people you're trying to reach, and connect with them on an individual level.
Social media usage continues to increase and it's become ingrained in our daily lives. If it's not already a part of your promotional tactics, it's time to reevaluate and see where it fits within your marketing strategy.
2. A source of news, connection, and entertainment
You and I may have different reasons for using social media. But there are similarities.
We both want to be entertained (throwback to sharing funny cat videos) and to connect with our friends and family;
we use it to unlock opportunities, to form bonds with strangers on the internet and create global networks; and
we often use social media to connect with our favourite brands — and voice our displeasure with those that let us down.
That's the true purpose of social media, really. Entertainment and connection.
It's also become a popular source for news and education, per the Pew Research Centre, with younger demographics trusting what they see on social media more than television or newspapers. Baby Boomers and Gen Xers are more leery, but they still trust what their friends and family share online more than traditional media — whether the information is accurate or not.
Recommendation
Users engage with specific social media platforms for a variety of reasons. And they're there because they want to be. It's hard enough to capture your followers' attention, moving them off platform is an even greater challenge. Instead, try this:
Create mobile-friendly content tailored to each platform;
invest in high-quality visual content and film and edit video; and
over deliver on value with zero-click content — give your followers all the benefits without having to leave the platform.
Lastly, never stop testing. Slideshows on LinkedIn and threads on Twitter might perform well one day and flop the next. Video is King right now, but who's to say it won't be dethroned by audio?
3. Privacy, trust, and mental health
Privacy is an ongoing concern on the internet — and social media by extension — more so in recent years, with many platforms under fire for turning user data into paychecks.
Not to mention, social media is the Wild West of the internet. Misinformation is a big concern, as platforms lack regulation compared to traditional media, while owners and developers are ultimately gatekeepers.
Only one in ten users are highly confident in Facebook, TikTok, and Twitter, according to the 2023 Survey of Online Harms in Canada conducted by Toronto Metropolitan University's Leadership Lab.
Social media also affects our mental health. We're overly stimulated, with notifications dinging and flashing and chirping for attention. It leaves us restless, reduces the quality of our sleep, and is linked to mental illnesses like anxiety and depression. Cyberbullying and hate speech remain an issue, and social media gives us a rose-coloured view of others 'living their best lives.' Teenagers struggle with low self-esteem (or worse) as a result.
Recommendation
Users are more aware of what's behind the curtain, from data collection to the impact on our mental health. It's led to an erosion of trust and made us more conscious of how and how much we use social media. This builds the case for:
Being transparent with how you collect, use, and protect personal data;
partnering with influencers to gain credibility with your followers;
funnelling your audience to owned channels, like an email list;
addressing the negative impacts of the technology; and
posting honest and valuable content consistently.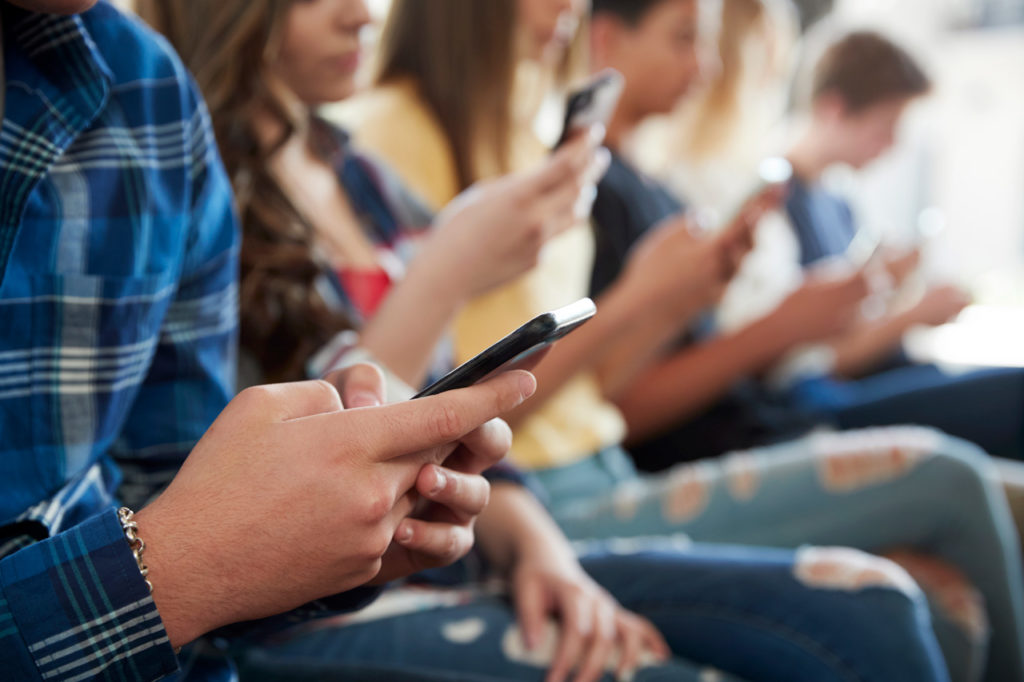 4. The next generation, raised on social media
Today's youth grow up online. Global research by OfCom reports 44% of kids aged eight to 11 use social media, which nearly doubles to 87% for 12 to 15 year olds. They access it from their own devices, along with messaging and video apps, live streaming services, and on-demand content.
What are some other habits of young users?
According to Hootsuite's 2023 Social Media Trends report, Instagram is Gen Z's favourite social media platform — despite being TikTok's largest user base;
Later found YouTube to be the most used platform by those aged 13 to 25, while Facebook and Twitter are less favourable; and
younger users are spending up to four hours a day on social media, and as many as 10 hours a day on their phones.
Recommendation
The future generation's influence increases as time goes by — and they're poised to be the most digitally savvy demographic. One of the most socially and environmentally conscious, as well.
They're the next batch of leaders, innovators, and decision-makers. Keep this in mind when it comes to connecting with Gen Z on social media:
They're digital first, preferring to engage with brands virtually;
UX and UI are key to building relationships with a Gen Z audience — they expect a seamless experience, from social to website, online to offline; and
they aren't fooled by bait-and-switch tactics, greenwashing, and dishonest business practices — brands are under the microscope and held accountable at all times
Maybe Gen Z isn't your audience just yet. When it's time to start building relationships, meet them where they're most comfortable: the digital world.
5. A launch pad for the creator economy
Finally, the latest trend in social media is building your personal brand. Content creators, freelancers, and solopreneurs use it to form a community of loyal followers. Once the audience is large enough, each platform is leveraged to earn revenue, generate funding, and increase worth.
Digital entrepreneurs also use social media like a pitch podium. Where each platform is considered a door to the funnel, similar to any other business, association, or destination.
The pandemic forced remote work on many of us, and it's here to stay. Social media serves as a place to build networks, form partnerships, and level up. It's how individuals become businesses and earn a living from the comfort of their homes.
Recommendation
Social media is viewed as a conduit, connecting entrepreneurs around the world and creating unique opportunities. The value isn't lost on platform developers — more large personal brand accounts means more app downloads and more users. Why's that matter?
Social media is a source for talent—from full-time employees and experienced freelancers to influencers, interns, and leaders;
it's a source for support, where you can find sponsors and donors, investors and business partners; and
the creator economy is a 100+ billion-dollar industry offering a wealth of opportunity and inspiration for developing your own social content.
Let's get social
Ready to take your social media game to the next level?
Let's tell your story together — from conducting in-depth audience research and developing strategic content programs, to producing scroll-stopping creative for your social platforms.
Get in touch with Alphabet® today.